In the first two lessons, Msgr. Witt focuses on the early history of Islam and the importance of Prophet Muhammad in the late sixth century and early seventh century. Muhammad helped bring about unity.

"It was a crazy religious atmosphere at the time — so many different gods and so many different forms of Christianity," Msgr. Witt said. "There were four individuals, the Hanif, who just threw out all of this stuff and went back to the God of Abraham. 'Hanif' is an Arabic word meaning rejection, or pulling away; they banded together and said, 'We're only going to worship one God, the God of Abraham, and all these others are false gods.'"
According to Msgr. Witt, the four — three of whom became Christians — inspired Muhammad.
"He himself is making private retreats up in the mountains, and the first time he comes down, he thinks he's going crazy," he said, adding that Muhammad then consulted with one of Hanif, who "listens to Muhammad and says, 'You're not going crazy. These are inspired words; you need to heed them and share them with others.'
"These religious experiences ultimately lead to the Koran."
In the "Jihadism" talk, Msgr. Witt addresses the question of "when is (jihad) legitimate and when is it not legitimate," he said. "Where are these people, especially ISIS, coming from? They are taking a brand of Islam which is a legitimate brand, and we have to understand that also. To say that they're 'not Islamic' is simply misunderstanding."
St. Louis Review
By Dave Luecking | daveluecking@archstl.org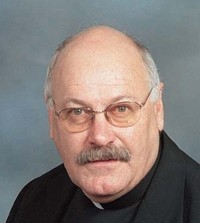 Monsignor Michael John Witt was ordained a priest for the Archdiocese of St. Louis in 1990. Before that, he served the Church for twenty-two years as a Christian Brother, teaching in Oklahoma, Missouri, and Tennessee. He holds a Ph.D. in Modern European History from St. Louis University and a Masters in Divinity from Kenrick-Glennon Seminary. He has served the Archdiocese as an associate pastor, pastor, and Director of Continuing Formation for Priests. Besides publishing two books on Catholic topics and contributing journal articles, Msgr. Witt is assembling this 169-part series on Catholic Church history. He currently teaches at Kenrick-Glennon Seminary and is pastor of All Saints Catholic Church in University City, MO.